Tropiclean Clean Teeth Gel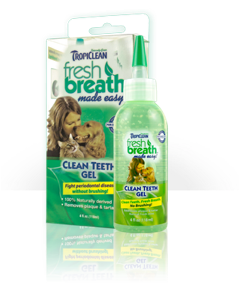 Tropiclean Clean Teeth Gel
Removes plaque & tartar
Works fast and naturally to help reduce plaque and tartar on dogs and cats -- no toothbrush required. A proprietary blend of natural, holistic ingredients produce a healthy oral environment. Kills the germs that cause bad breath, plaque and gingivitis. Soothes minor gum irritations. For clean teeth and 'up close' fresh breath everyday!
Ingredients: Purified Water, Natural Derived Alcohol, Natural Mint, Glycerin, Natural Cleanser, Carbopol, Chlorophyllin, Green Tea Leaf Extract
Directions
Apply 2 drops of gel to each side of the pet's mouth. Apply directly to the teeth with plaque buildup. Use once daily. You'll soon notice your pet licking their lips repeatedly. This is normal and helps the gel to mix with saliva and coat all surfaces of your pet's teeth and gums. For maximum effect, withhold food and water for 30 minutes before and after treatment. Tooth brushing is not necessary but will speed up the removal of softened plaque and tartar. Ordinarily, after 30 days, application can be reduced to twice weekly for regular maintenance.
Reviews