Pet Naturals Hip + Joint for Cats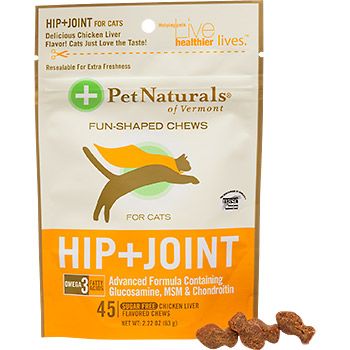 Pet Naturals Hip + Joint for Cats
Specifically formulated for feline hip and joint health, Pet Naturals Hip + Joint Cat Soft Chews make for a convenient and tasty way to support your precious kitty's hips and joints. This advanced formula contains Glucosamine, MSM, Chondroitin and Omega 3 fatty acids, which are essential to hip and joint health. These soft and chewy natural cat supplements are recommended to support joint structure, function and flexibility for cats of all ages. Sugar-free and made with natural ingredients, these tasty and savory soft chews are bursting with the chicken liver flavor that cats crave and cannot get enough of. In fact, these soft chew cat supplements are easy to administer, because cats think they are yummy cat treats. Whether your favorite feline friend's joints has endured the regular wear and tear of age, endured the strain from rigorous physical activity or from being overweight, you cannot go wrong with these delicious chewy cat hip and joint supplements. These chicken liver-flavored soft chews will help to promote cat hip and joint health, while also allowing you to show your precious kitties just how much you care. For your added convenience, these chews come in a re-sealable pouch that keeps them fresh.

For use in cats only.
Adult cats: Give 2 soft chews daily. Daily amount may be divided between am and pm. For quicker results, double the recommended daily amount for the first 6 weeks.
Safe use in pregnant animals or animals intended for breeding has not been proven. If animal's condition worsens or does not improve, stop product administration and consult your veterinarian.
Ingredients:
Brewers yeast, chicken liver flavor, corn oil, fish oil, glycerin, natural mixed tocopherols, propionic acid, soy lecithin, SureSweet (maltodextrin, sodium alginate and calcium sulfate), whey.

Guaranteed Analysis:
Guaranteed Analysis Per 2 Soft Chews: Glucosamine HCI 200mg, methylsulfonylmethane (MSM) 100mg, chondroitin sulfate 100mg, ascorbic acid (Stay-C®) 25mg, n n-dimethylglycine (DMG) 25mg, eicosapentaenoic acid (EPA) 7.5mg, docosahexaenoic acid (DHA) 5mg, manganese (MN Proteinate) 1.25mg.

Reviews