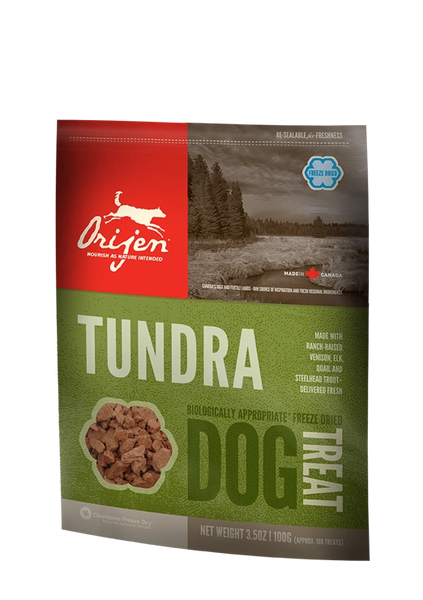 Orijen Tundra Treats
THIS UNIQUE AND FLAVORFUL TREAT FEATURES RANCH-RAISED ELK, CAGE-FREE QUAIL AND STEELHEAD TROUT — ALL FRESH FROM OUR REGION AND GENTLY FREEZE-DRIED TO LOCK IN THEIR GOODNESS AND TASTE.


All dogs evolved as carnivores, biologically adapted to thrive on a varied diet of fresh whole meats. That's why we loaded ORIJEN TUNDRA TREATS with 100% venison and fish — all delivered fresh and in WholePrey ratios to indulge and nourish your dog at the same time.
Made without cooking or preservatives, ORIJEN's Biologically Appropriate™ treats are gently freeze-dried in our very own kitchens to lock in the life-giving goodness and amazing flavors of our authentically fresh and regional ingredients for a reward your dog will truly love.
OUR RANCH-RAISED ELK, CAGE-FREE QUAIL AND STEELHEAD TROUT ARE SUSTAINABLY RAISED OR FISHED WITHIN OUR REGION BY PEOPLE WE KNOW AND TRUST, APPROVED 'FIT FOR HUMAN CONSUMPTION,' AND DELIVERED TO OUR KITCHENS FRESH EACH DAY.
INGREDIENTS:
Boneless venison, elk liver*, boneless elk*, venison liver, boneless quail*, steelhead trout*.
* Fresh and Preservative-Free
YOUR DOG SHARES HIS EATING ANATOMY WITH THE WOLF, WHICH MEANS HE'S EVOLVED FOR A DIET RICH IN MEAT, NOT CARBOHYDRATES AND GRAINS!
MEAT AND PROTEIN RICH
Made with 100% meat ORIJEN treats feature a Biologically Appropriate protein content of 50%.
LOW GLYCEMIC
Your dog's natural diet contains few carbohydrates, so why include them in his treats? That's why we make ORIJEN treats free of any grains or carbohydrates – just the goodness and taste of natural meat, poultry and fish.
Crude Protein (min.) 45%
Crude Fat (min.) 35%
Crude Fiber (max.) 1%
Moisture (max.) 2%
Reviews