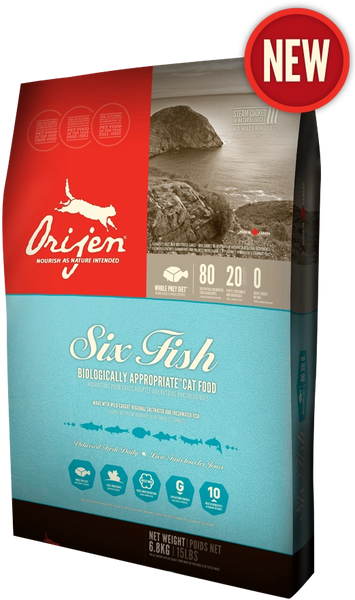 Orijen Six Fish Cat
INSPIRED BY THE RICH DIVERSITY OF FISH INDIGENOUS TO CANADA'S PRISTINE WATERS, ORIJEN 6 FISH IS PACKED WITH SALTWATER AND FRESHWATER FISH, CAUGHT-WILD AND THEN WHISKED TO OUR KITCHENS AS FRESH AND COLD AS THE WATERS THEY CAME FROM.


Surrounded by Atlantic, Pacific and Arctic oceans, and blessed with vast unpolluted rivers and lakes, Canada boasts a marine harvest perfectly suited to ORIJEN's philosophy of Biologically AppropriateTM cat foods from fresh regional ingredients.
Loaded with protein-packed fish (80%) to support lean muscle mass, ORIJEN's low-carbohydrate, low-glycemic formula supports healthy blood sugar levels for peak health and optimum body weight in cats of all breeds and life-stages.
And with each morsel now infused with freeze-dried fish, ORIJEN SIX FISH is bursting with natural savory flavors that all cats love.
Prepared from Canada's freshest fish, fruits and berries, in our very own kitchens, award-winning ORIJEN keeps your cat or kitten happy, healthy and strong.
READ OUR INGREDIENTS AND YOU'LL BE HAPPY TOO!
INGREDIENTS
Whole salmon,* whole herring,* salmon meal, herring meal, pollock meal, whole flounder,* boneless walleye,* boneless northern pike,* boneless lake whitefish,* salmon oil, herring oil, chickpeas, red lentils, green lentils, green peas, pea fibre, canola oil, sun-cured alfalfa, kelp, pumpkin,* butternut squash,* spinach greens,* carrots,* apples,* pears,* cranberries,* mixed tocopherols (preservative), chicory root, dandelion root, chamomile, peppermint leaf, ginger root, caraway seeds, turmeric, rose hips, freeze-dried herring, freeze-dried hake, freeze-dried flounder, dried Enterococcus faecium fermentation product + vitamins and minerals
* FRESH AND PRESERVATIVE-FREE
SUPPLEMENTS
Zinc Protienate, copper proteinate, vitamin A supplement, vitamin D3 supplement, dried Enterococcis faecium fermentation product.
Reviews