Orijen Grass-Fed Lamb Treats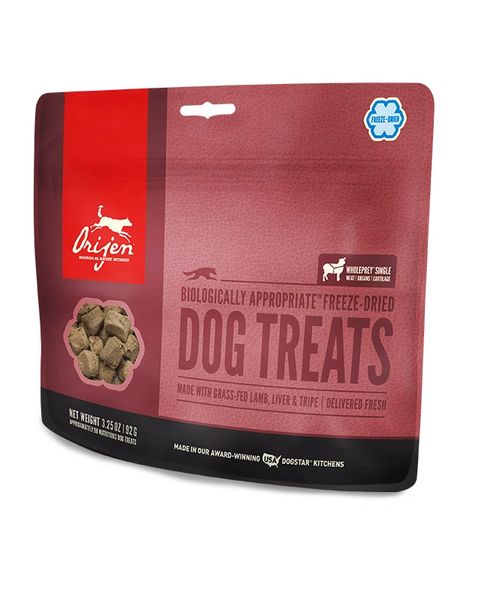 Orijen Grass-Fed Lamb Treats
LOADED WITH GOODNESS AND FULL OF TENDER FLAVOUR, OUR ALBERTA LAMB IS RANCH-RAISED BY LOCAL FARMERS ON NEARBY RANCHES, AND THEN DELIVERED TO OUR KITCHENS FRESH, PRESERVATIVE-FREE AND LOADED WITH GOODNESS.
ORIJEN's Biologically Appropriate™ single-source treats are a simple and pure way to nourish and reward your dog with tastes he will love you for. Bursting with natural flavors, this unique treat features 100% pure and natural lamb in whole prey ratios to keep your cherished dog happy, healthy and strong.
Made without cooking or preservatives, our ORIJEN RANCH-RAISED LAMB treats are gently freeze-dried to lock in ALL of the natural goodness and amazing flavors of our fresh Alberta lamb in a reward your dog will love you for — we guarantee it!
OUR RANCH-RAISED LAMB ARE SUSTAINABLY RAISED BY PEOPLE WE KNOW AND TRUST, APPROVED 'FIT FOR HUMAN CONSUMPTION,' AND DELIVERED TO OUR KITCHENS FRESH OR RAW EACH DAY.
INGREDIENTS: Boneless lamb* Lamb liver*, lamb tripe*.
* Fresh and Preservative-Free
YOUR DOG SHARES HIS EATING ANATOMY WITH THE WOLF, WHICH MEANS HE'S EVOLVED FOR A DIET RICH IN MEAT, NOT CARBOHYDRATES AND GRAINS!
MEAT AND PROTEIN RICH
Made with 100% lamb, ORIJEN treats feature a Biologically Appropriate™ protein content of 48%.
LOW GLYCEMIC
Your dog's natural diet contains few carbohydrates, so why include them in his treats? That's why we make ORIJEN treats free of any grains or carbohydrates – just the goodness and taste of pure and natural lamb.
Crude Protein (min.) 35%
Crude Fat (min.) 45%
Crude Fiber (max.) 1%
Moisture (max.) 2%
Reviews