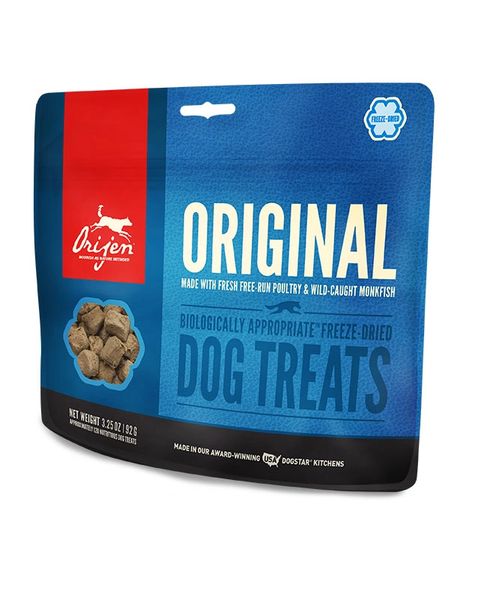 Orijen Original Treats
ORIJEN ORIGINAL FEATURES A SYMPHONY OF CAGE-FREE CHICKEN AND TURKEY FROM LOCAL PRAIRIE FARMS, PLUS WILD-CAUGHT FLOUNDER FROM NORTH VANCOUVER ISLAND — ALL DELIVERED FRESH EACH DAY.
OUR CAGE-FREE POULTRY AND WILD-CAUGHT FLOUNDER ARE SUSTAINABLY RAISED OR FISHED WITHIN OUR REGION BY PEOPLE WE KNOW AND TRUST, APPROVED 'FIT FOR HUMAN CONSUMPTION,' AND DELIVERED TO OUR KITCHENS FRESH EACH DAY.
INGREDIENTS: Cobb chicken liver*, turkey liver*, boneless Cobb chicken*, boneless turkey*, boneless flounder*
* Fresh and Preservative-Free

YOUR DOG SHARES HIS EATING ANATOMY WITH THE WOLF, WHICH MEANS HE'S EVOLVED FOR A DIET RICH IN MEAT, NOT CARBOHYDRATES AND GRAINS!
MEAT AND PROTEIN RICH
Made with 100% meat ORIJEN treats feature a Biologically Appropriate protein content of 50%.
LOW GLYCEMIC
Your dog's natural diet contains few carbohydrates, so why include them in his treats? That's why we make ORIJEN treats free of any grains or carbohydrates – just the goodness and taste of pure and natural meat.
Crude Protein (min.) 45%
Crude Fat (min.) 35%
Crude Fiber (max.) 1%
Moisture (max.) 2%
Reviews