Organic Pet SuperFood Digestion Daily Pet Supplement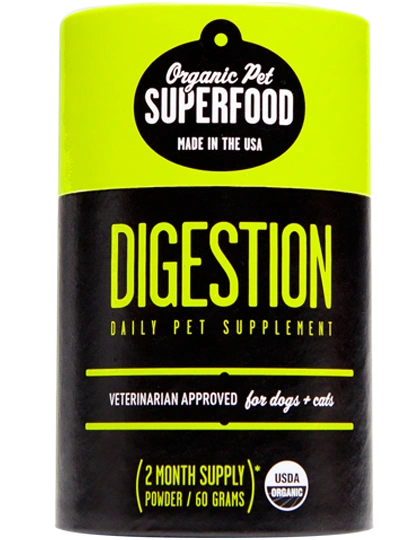 Organic Pet SuperFood Digestion Daily Pet Supplement
INGREDIENTS:
Organic Maitake, Organic Shitake, Organic Lion's Mane, Organic Beech, Organic Turkey Tail, Organic Oyster.
Vitamins B1, B12, C + D; Polysaccharides; Triterpenes; Natural Enzymes; Prebiotics; Dietary Fiber. 100% Organic.
RECOMMENDED USES:
For pets with symptoms of gastrointestinal disturbances, including gas, bad breath, loose stools or constipation. Preventative for highly active pets needing efficient nutrient processing and for pets prone to digestive imbalances. Use alone or in conjunction with our IMMUNITY formula.*
Serving Size: ¼ teaspoon (.5 grams) per 25lbs.
Instructions: Place on dry or wet food once per day (for lame or diseased pets, double dosage for first 7 days).
2 month supply for an average sized 50lb. dog.
*These statements have not been evaluated by the Food & Drug Administration. This product is not intended to diagnose, treat, cure, or prevent any disease.
Reviews