NaturVet Herbal Flea Shampoo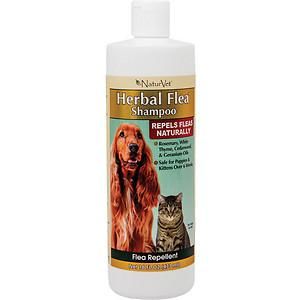 NaturVet Herbal Flea Shampoo
Product Description:
For dogs and cats.
NaturVet's Herbal Flea Shampoo is a flea shampoo for dogs and cats. The unique natural combination of rosemary, cedarwood, geranium, and thyme repels fleas. NaturVet's Herbal Flea Shampoo, Herbal Flea Powder, and Herbal Flea Spray work together synergistically for extra support.
Available sizes:
16 oz
Active Ingredients:
Sodium Lauryl Sulfate (6.3%), Lemongrass Oil (0.25%), Rosemary Oil (0.25%), Cedarwood Oil (0.25%) and White Thyme Oil (0.25%).
Inactive Ingredients:
Deionized Water, Isopropyl Alcohol, Soap Bark Extract, Glycerine and Sodium Carboxymethylcellulose. (Total Inerts: 92.7%)
Directions:
Wet the animal thoroughly and apply sufficient Herbal Flea Shampoo. Massage in well. Allow ten minutes contact time and rinse completely. Repeat bathing weekly or semi-weekly, and apply Herbal Flea Powder or Herbal Flea Spray for extra support. Herbal Flea Shampoo can be used on puppies and kittens over the age of six weeks.
Routine and Grooming Use: Apply as directed above. Bathe monthly or as needed.
Reviews