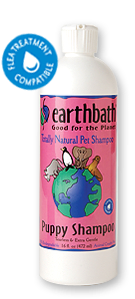 Earthbath Puppy Shampoo
A NATURAL APPROACH
Precious puppies deserve tender loving care, so earthbath crafted this extra-mild shampoo just for your frisky young pup. Naturally tearless and pH-balanced for puppies' sensitive skin, this luxurious shampoo contains only nature's finest blend of natural cleansers, aloe vera and a dash of baby-fresh, cherry essence. This shampoo will create a brilliant, show quality shine, rinse thoroughly and leave your pup smelling and feeling better than ever before. Will not wash off topical flea applications. Safe for all animals over 6 weeks. Soap free.
INGREDIENTS
Purified water, renewable coconut based cleansers, aloe vera, natural cherry essence, olive oil squalene (natural preservative). All ingredients are natural and 100% biodegradable.
NON-INGREDIENTS
Anything that would harm you, your pet, or the planet. This product contains no: parabens, phosphates, pthalates, DEA, synthetic dyes or perfumes. The sudsy runoff is completely safe and will not harm kids, lawns or other living things.
Reviews