Earthbath Lavender Deodorizing Spritz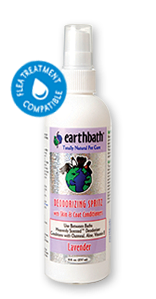 Earthbath Lavender Deodorizing Spritz
A NATURAL APPROACH
Want odor relief, coat & skin conditioning in a jiffy? No time for a bath? Our Deodorizing Spritz is the simple, scent-ual solution. earthbath's premium Spritz naturally eliminates pet odor between baths, re-moisturizes skin and coat, & imparts a healthy shine and supple softness - without leaving oily residue. Sumptuous lavender essence deodorizes, while meadowfoam seed oil, colloidal oatmeal, aloe vera and vitamin E help to condition, rehydrate & soothe skin while creating show quality shines - between baths. It's heavenly scented™ with natural essences that match our most popular shampoos. Safe for dogs over 6 weeks old. Not for use on cats.
INGREDIENTS
De-ionized water, natural conditioners, colloidal oatmeal, aloe vera, vitamin E, lavender essence. All ingredients are natural, gentle, and 100% biodegradable.
NON-INGREDIENTS
Anything that would harm you, your pet, or the planet. This product contains no: parabens, phosphates, pthalates, DEA, synthetic dyes or perfumes. The sudsy runoff is completely safe and will not harm kids, lawns or other living things.
Reviews