Earthbath Green Tea Leaf Grooming Wipes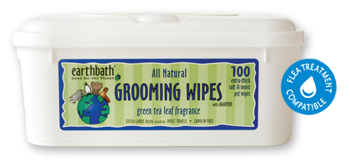 Earthbath Green Tea Leaf Grooming Wipes
A NATURAL APPROACH
Use earthbath Grooming Wipes with Green Tea Leaf Extract to safely and easily wipe away dirt and odor between baths. Handily clean pets' dirty paws and undercoat. Dirty bottoms too! Remove dander, drool, discharge and cling-ons from playing in the unknown. Mild cleansers freshen and deodorize as the anti-oxidant properties of Green Tea Leaf Extract protect from environmental damage. Hawaiian Awapuhi conditions coat and imparts a healthy shine while Aloe Vera and Vitamin E moisturize coat and skin. Do not flush wipes.
Store in a cool, dry place.
INGREDIENTS
Purified Water, Polysorbate 20 (a natural derivative of sorbitol), Green Tea Leaf Extract, Hawaiian Awapuhi Extract, Aloe Vera, Vitamin E, and Benzoic Acid (a natural preservative).
NON-INGREDIENTS
Anything that would harm you, your pet, or the planet. This product contains no: parabens, phosphates, pthalates, DEA, synthetic dyes or perfumes. Any residue left behind is completely safe and will not harm your pet.
Reviews