BREATH-LESS Brushless Toothpaste MINI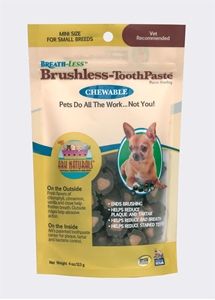 BREATH-LESS Brushless Toothpaste MINI
 BREATH-LESS Brushless Toothpaste is a highly digestible dental chew with clinically proven, all natural ingredients.
 On the outside: Fresh flavors of alfalfa (source of chlorophyll), cinnamon, vanilla and clove help freshen breath. Outside ridges help abrasive action.
 On the inside:  Ark's patented toothpaste center for plaque, tartar and bacteria control.
 Recipient of multiple awards as chosen by national pet magazines and their readers!
 Use with BREATH-LESS Plaque Zapper for maximum benefits.
For all dogs and cats 12 weeks and older.  Mini size ideal for toy dogs and cats if they like the taste.  Also available in larger sizes.
Reviews