Ark Naturals Happy Traveler Calming Chews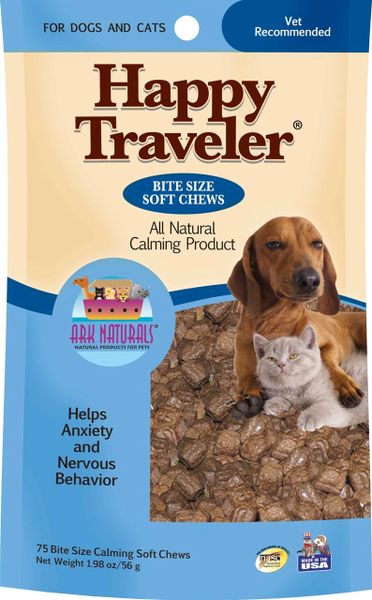 Ark Naturals Happy Traveler Calming Chews
Formulated with the highest quality botanicals, Happy Traveler was designed by a holistic veterinarian and PhD herbal scientist to ease anxiety and motion sickness. Useful for separation anxiety, travel anxiety, to socialize a nervous or excitable pet into a new environment, during thunderstorms, fireworks, airline travel, visits to groomers, vets, and kennels. With your Vet's approval, helps your pet during recovery from surgery/injury by relaxing them to minimize chewing on bandages and sutures. Non-habit forming. No harmful side effects when used as directed.

Product Specifications

Recommended Use:
Up to 10 lbs - 1 soft chew
Up to 30 llbs - 2-3 soft chews
Up to 60 lbs - 3-4 soft chews
Up to 80 lbs - 5-6 soft chews
100 lbs and over begin with 7 - use additional soft chews as needed.
Active Ingredients:
Valerian
German Chamomile
L-Tryptophan
St. Johns Wort
Inactive Ingredients:
Black Malt Extract
Dry Poultry Liver Flavor
Flax Seed Oil
Gelatin
Glycerin
Natural Flavors
Salt
Whey
NO: wheat, corn, soy, yeast, artificial colors, flavors or preservatives.
Reviews