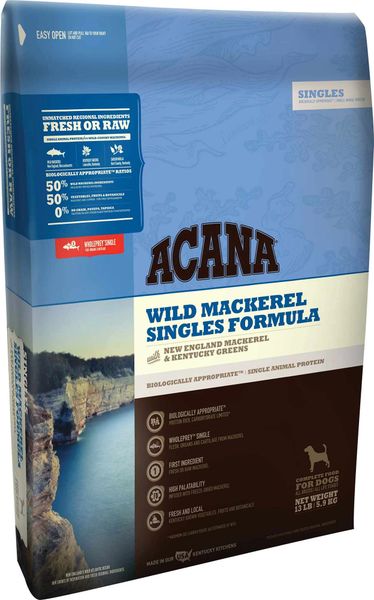 Acana Wild Mackerel
Your dog is biologically adapted for a diet rich in meat. Equipped with sharp teeth, a single hinge jaw, and a short digestive tract, domestic dogs are anatomically designed to metabolize protein and fat from meat. That's why we loaded ACANA Wild Mackerel with 50% mackerel, sourced from New England waters. All our fish is deemed fit for human consumption before arriving at our Kentucky kitchens.

ACANA Wild Mackerel features an unmatched variety of local ingredients that are fished by people we know and trust, deemed "fit for human consumption", and then delivered to our Kentucky DogStar® kitchens fresh each day!
Ingredients: Whole mackerel*, mackerel meal, whole green peas, red lentils, sunflower oil, pinto beans, chickpeas, mackerel oil, green lentils, whole yellow peas, natural mackerel flavor, sun-cured alfalfa, mustard greens*, collard greens*, turnip greens*, dried kelp, freeze-dried mackerel, whole pumpkin*, whole butternut squash*, kale*, spinach*, whole carrots*, Red Delicious apples*, Bartlett pears*, pumpkin seeds, sunflower seeds, zinc proteinate, copper proteinate, mixed tocopherols (preservative), chicory root, turmeric, sarsaparilla root, althea root, rose hips, juniper berries, dried lactobacillus acidophilus fermentation product, dried bifidobacterium animalis fermentation product, dried lactobacillus casei fermentation product.
* delivered fresh or raw
OUR ONLY SUPPLEMENTS: ZINC, COPPER.
OUR ONLY PRESERVATIVE: VITAMIN E (MIXED TOCOPHEROLS).
Reviews