Acana Pork and Butternut Squash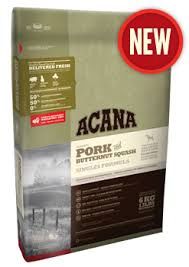 Acana Pork and Butternut Squash
ACANA DOG FOOD , PORK 
LIMITED INGREDIENT AND BIOLOGICALLY APPROPRIATE™ DOG FOOD
Featuring Alberta pork as the sole animal ingredient, ACANA Pork & Butternut Squash is a Limited Ingredient and Biologically Appropriate™ food that's perfectly suited to diet-sensitive dogs of all breeds and life stages.
Raised locally and delivered fresh, our Alberta pork is featured in nourishing WholePrey™ ratios including meat, liver, kidney and cartilage — all of which supply nutrients in natural form, dramatically reducing the need for synthetic ingredients in our foods. Infusions of freeze-dried pork liver naturally enhance palatability for selective eaters.
Red Delicious apples, whole pumpkin and regional botanicals — including chicory root — are delivered fresh from Fraser Valley soils, providing a rich source of soluble fiber to support healthy digestion and firm, consistent stool.
Prepared with fresh and local ingredients in our award-winning kitchens here in Alberta, Canada, ACANA Pork & Butternut Squash keeps your cherished dog happy, healthy and strong.
Reviews