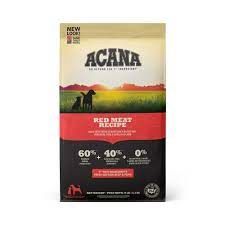 Acana Heritage Meats
Your dog evolved as a meat eater. The structure of his teeth, jaws and digestive system scientifically classifies him as a carnivore, evolved for a meat-based diet.
That's why we loaded ACANA Heritage Meats with Angus beef, Yorkshire pork and Suffolk lamb — all raised on local Kentucky farms and delivered fresh, in WholePrey™ ratios of meat, liver, tripe, kidney and cartilage to nourish your dog completely.
ACANA Heritage Meats features an unmatched variety of local ingredients that are raised or fished by people we know and trust, passed "fit for human consumption", and then delivered to our Kentucky DogStar® kitchens fresh each day!
Ingredients: Deboned beef, deboned pork, beef meal, whole green peas, red lentils, pinto beans, pork meal, beef fat, chickpeas, green lentils, whole yellow peas, deboned lamb, herring oil, sun-cured alfalfa, natural pork flavor, beef tripe, beef liver, beef kidney, pork liver, pork kidney, pork cartilage, lamb tripe, lamb liver, lamb kidney, dried kelp, whole pumpkin, whole butternut squash, kale, spinach, mustard greens, collard greens, turnip greens, carrots, apples, pears, freeze-dried beef liver, freeze-dried pork liver, freeze-dried lamb liver, zinc proteinate, mixed tocopherols (preservative), chicory root, turmeric, sarsaparilla root, althea root, rose hips, juniper berries, dried lactobacillus acidophilus, dried bifidobacterium animalis fermentation product, dried lactobacillus casei fermentation product.
SUPPLEMENTS: ZINC CHELATE. VITAMIN E (PRESERVATIVE).
Reviews