Acana Heritage Freshwater Fish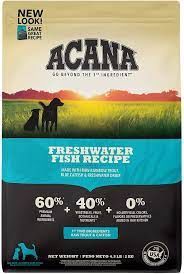 Acana Heritage Freshwater Fish
By nature, all dogs are evolved as carnivores, biologically adapted for a diet rich and varied in fresh meats with smaller amounts of fruits, vegetables and grasses.
That's why we loaded ACANA Freshwater Fish with Rainbow trout from Idaho, whole Blue catfish from Kentucky, and wild Yellow perch from the Great Lakes – all delivered fresh or raw in richly nourishing WholePrey™ ratios.
ACANA Freshwater Fish features an unmatched variety of local ingredients that are raised or fished by people we know and trust, passed "fit for human consumption", and then delivered to our Kentucky DogStar® kitchens fresh each day!
Ingredients: Rainbow trout, whole catfish, catfish meal, whole green peas, red lentils, pinto beans, catfish oil, chickpeas, green lentils, whole yellow peas, yellow perch, mackerel meal, herring oil, cod meal, sun-cured alfalfa, natural fish flavor, dried kelp, freeze-dried cod liver, whole pumpkin, whole butternut squash, kale, spinach, mustard greens, collard greens, turnip greens, carrots, apples, pears, zinc proteinate, copper proteinate, mixed tocopherols (preservative), chicory root, turmeric, sarsaparilla root, althea root, rose hips, juniper berries, dried lactobacillus acidophilus fermentation product, dried bifidobacterium animalis fermentation product, dried lactobacillus casei fermentation product.
SUPPLEMENTS: ZINC CHELATE, COPPER PROTEINATE, VITAMIN E (PRESERVATIVE).
Reviews