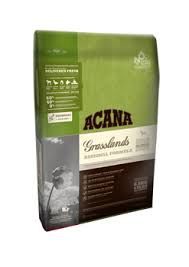 Acana Grasslands Cat
70% LAMB, DUCK, EGGS & FISH
The ultimate food mimics the one Mother Nature intended your cat to eat!
Loaded with 70% of meats and fish,ACANA Grasslands matches your cat's evolutionary adaptation to a meat & protein rich diet, and its fresh meat variety mirrors the diversity and freshness of the natural diet.
Alberta Lamb – ranch-raised and delivered fresh from local Alberta ranches
Wild-Caught Fish – our perch are locally caught and delivered fresh each day
Cage-free Duck – our Canadian duck are raised free-run and delivered fresh each day
Cage-free Eggs – delivered fresh and whole each day from local prairie farms.
Passed "fit for human consumption" before arriving fresh, and preservative-free each day, our fresh regional local ingredients are unmatched by any other cat food.
FRESH, LOCAL FRUITS & VEGETABLES
ACANA Grasslands is loaded with a full 30% of fruits & vegetables including Red Delicious apples from the sun-drenched Okanagan valley, and butternut squash, pumpkin and spinach greens from the black soils of local prairie farms – all bursting with goodness to support peak health and immunity.
GRAIN-FREE & LOW CARBOHYDRATE
Rich in protein and low in carbohydrates to match your cat's natural diet, ACANAGrasslands is free of high glycemic carbohydrate ingredients (such as rice and potatoes) found in conventional cat foods.
Long associated with obesity and diabetes, high glycemic carbohydrates break down quickly, causing a rapid and large rise in your cat's blood sugar.
Grain-free and low in carbohydrates, ACANA causes your cat's blood sugar to rise less over a longer period of time so her sensitivity to insulin is beneficially increased and fat storage is decreased to achieve peak conditioning.
LUXURIANT SKIN & COAT
We infused each morsel of ACANA Grasslands with marine-source Omega 3 (DHA, EPA) from wild-caught New Brunswick herring to support immunity and luxuriant skin & hair coat – your cat's outer symbol of health and vitality.
ENHANCED IMMUNITY
Organic sea vegetables and botanicals including sun-cured alfalfa and peppermint leaf enhance metabolism while nourishing and toning your cat's digestive tract
INGREDIENTS
Boneless lamb*, lamb meal, boneless duck*, Pollock meal, duck fat, green lentils, boneless perch*, herring meal, red lentils, salmon meal, chickpeas, green peas, herring oil, whole eggs*, lamb fat, sun-cured alfalfa, dried kelp, pumpkin*, butternut squash*, spinach greens*, carrots*, apples*, pears*, cranberries, mixed tocopherols (preservative), chicory root, dandelion root, chamomile, peppermint leaf, ginger root, caraway seeds, turmeric, rose hips, freeze-dried lamb liver, freeze-dried duck liver, freeze-dried lamb, Enterococcus faecium fermentation product, plus premium vitamins and minerals.
* DELIVERED FRESH FROM OUR REGION DAILY
Reviews